Friday, September 11, 2009
Vintage dress from Japan, black chain belt from H&M, "Jimmy Choo" zipper pumps
V & I had a little impromptu photoshoot the other night.
"GO. GOGOGOGOGOGOGO!!! Quick, change into that, alright now everything red, I want everything red here. Slimfast, yes! Cake mix, ok! Ok now lay down, put your leg there - NO! Not like that, put your leg there. Scrunch! Scrunch!"
We took a few sets of photos, so that was actually pretty fun. Too bad my flat is so small I can't keep all my "fancy" dresses here.
I took the time to sort out outfits, iron them, and they're all hanging up at my mom's place. Grr! I just really need to get up there.
Yesterday I went to Mong Kok on a F/W 09 shoe search - disappointed is an
understatement
. I could only find platform pointed toe shoes that were even remotely inspired by the coming season. I did find tons of clothes, I ended up only buying a few things but they look adorable. I don't need more dresses, I need more shoes! But of course, in true style I didn't leave MK with just clothes... :)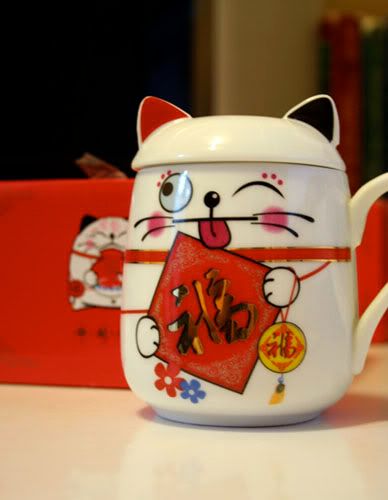 I had a mighty good LOL over this cat cup, apparently it's good luck or money. I just thought he was making an awesome face. Cat Cup ($39HKD) / 2nd Floor Argyle Center [some random stall]
I spent a good 4-5 hours in Mong Kok yesterday, wandering the mall, then to the streets, drinking insane amounts of
bubble tea
. I finally told V,
"I have to stop drinking this, I haven't eaten all day I have a massive sugar high."
Those bubble tea drinks are so cheap and delicious, but on an empty stomach you go from sugar-induced euphoria to a cranky come down in the span of an hour. I'm sure we looked
odd
to say the least, hysterically laughing and falling over, then suddenly walking like zombies, all glassy eyed and confused.
Happy Lemon is hands down one of my favorite bubble tea places! The one I'm trying here is malt flavor with tapioca bubbles and toasted coconut - yummm
If you haven't tried bubble tea,
go now
!! I implore you! The standard flavor is tea/coffee mix with black tapioca bubbles, but Taro (purple) flavor is good, and if you make it to
Happy Lemon
they have English on their menu.