Tuesday, September 29, 2009
ay, ay, ay, ay, canta y no llores
porque cantando se alegran
cielito lindo los corazones
I used to live in Costa Rica, and I remember being 10 and learning that song. So when we went out for "Mexican" food (after a few margaritas) the song got stuck in my head. I really like it when I'm alone because it's not like I'm chilling at home softly singing, I download the song and while I think passion flows through my voice it probably sounds a lot more like a dying cat.
"AAAAAAAYYYYYY AYYY AYY AYYYYYYYYYYYY"
Haha or like the sound the monster from Cloverfield makes, some high pitched wail. I just thought I'd share that, since the point of this blog isn't to tell you about how I rock, or how awesome I am, it's more along the lines of
I am a total loser
but I love clothes. Thank god for outward appearances!
Anyway we went over to
Agave
in Wanchai to celebrate a belated dad's birthday. For anyone who is desperately seeking Mexican food in Hong Kong... You are SOL (Shit Out of Luck). There's iCaramba, Taco Loco, and Agave, I used to feel like Agave had more of a "real" Mexican flavor. But to be honest that is negated by the fact that the staff are super rude. iCaramba is way too deep fried and Tex Mex for me. And while Taco Loco is an acceptable quick fix, it's small, uncomfortable and usually crowded. So yeah, if you're looking for Mexican food here... You kind of went to the wrong side of the world.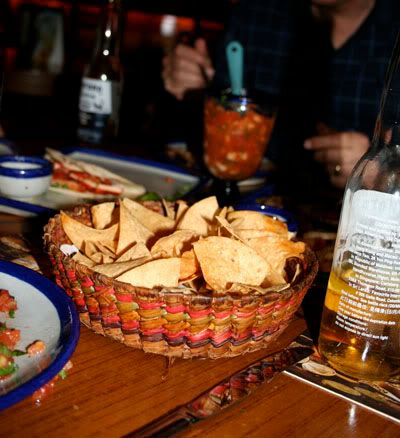 Only thing I have to say about Agave is yeah, delicious margaritas, Wednesday ladies' night, and some damn good chips and guacamole! I just wish the staff would get off their high horse, because ok... I understand being a waitress in Wan Chai of all places must really suck. But you're working in the afternoon, there's a decent amount of people in there - I'm sorry, I didn't put a gun to your head shouting,
"I banish you to be a WAITRESS!"
. And really, isn't that better than being a construction worker, prostitute, garbageman, etc.? And furthermore I was under the notion that when you serve food and you're nice you get a... what is that thing called? A... tip? No, I must be wrong, that's crazy. I mean you get a 10% service charge added to your bill anyway, who needs tips? We don't need any stinkin' tips.
The weather is bad, I am in a raging some kinda awful mood, but to cheer me up I'm going shopping :) Hellllooooo sexy leather jacket and shoes. Cold weather is on the horizon, I'm bringing out my scarves!