Thursday, August 20, 2009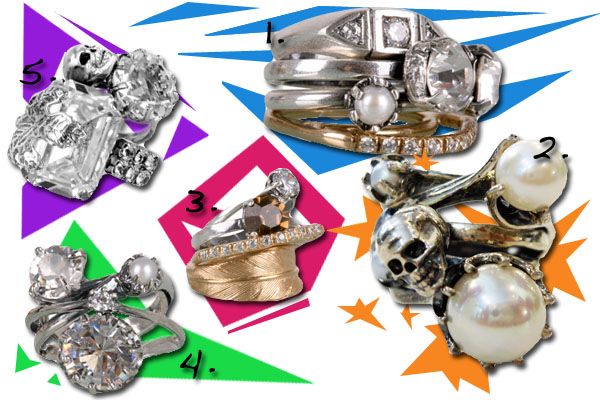 1 2 3 4 5

"Master of the opulent, mystical, and baroque, Roman jewelry line Iosselliani follows a cultural legacy of defining beauty with the tastefully over-the-top. Established in 1997 by Paolo Giacomelli and Roberta Paolucci, the revered label melds traditional metals and gems, often layering one delicate strand upon another until an ornate piece forms an unexpected look that's misshapen, refined, and altogether enchanting."
- Refinery 29
I have been absolutely in love with with Iosselliani jewelry ever since I discovered it a few years back. It started with an
Elizabeth Cole Jewelry
obsession and quickly found similar items, finally bringing me to the Iosselliani obsession.
To me Iosselliani is mythical, something that you'd find in a buried treasure chest - raw gems, rough metals, skulls, and claws. I can just imagine doing a photoshoot for them, being entirely covered in chains and sparkling jewels... This is the stuff of dreams. In particular I'm fond of their rings, the very first ring I saw was a silver claw clutching a tiny pearl. A simple ring, but it's one of those rings that you dream about, thinking how people would exclaim,
"Oh wow that is some ring!"
Over the past two years of watching the collection, Iosselliani has changed to include more delicate elements like feathers as well as more frightening skulls and geometrical stacks.
On their website I discovered that they have outlets in SE Asia! Yay! This is so exciting because on two separate occasions I have gone to the Pixie Market in NYC looking for
anything
Iosselliani only to discover that everything was sold out. Imagine my devastation... I flew 16 hours to go to NYC, and then no jewelry. Sad, sad times. Now there are three outlets where Iosselliani is being sold in Hong Kong:
Destination Hong Kong
S01B, 1/F LCX Fashion Walk
9 Kingston Street, Causeway Bay

Joyce Boutique
Shop 334 Pacific Place
88 Queensway, Admiralty

Lane Crawford
Pacific PLace
88 Queensway, Admiralty
Iosselliani is not an inexpensive brand of jewelry, one ring will set you back anywhere between $150-$500USD. They are definitely not the most expensive name out there, but for a unique piece of jewelry it is a worthy purchase in my book.