Sunday, August 23, 2009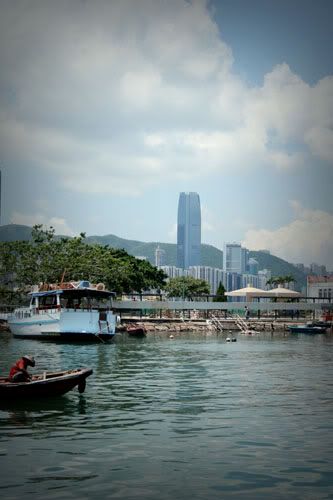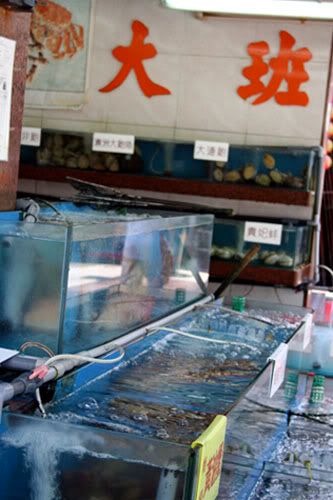 The weather was finally nice (crazy hot though) so when I met up with my parents on Saturday my dad suggested we go out to Lei Yue Mun on the Kowloon side to look at the village. Lei Yue Mun is a little channel of water that runs between Junk Bay & Victoria Harbor, on the HK Island side it's a holiday village, I think they offer horseback riding lessons. On the Kowloon side it's a fishing village where fisher people sell their goods, if you choose to sit down in the restaurants you pick your own fish and they prepare it for you. It's not exactly cheap anymore, it's a big thing to do for tourists so unless you have someone who's been before you might get gouged on the price. We just bought a grouper and a couple of scampi to take home and BBQ.
It sounds like fun, it was fun, but I made a vital error. In all the excitement of buying fish, the guy throwing lobsters on the floor at me, playing with the 6' fish in the tank, I forgot to ask the fish monger to clean and scale the fish. For some reason that is beyond me, it wasn't until we were all the way home that I thought,
"Gee how am I going to eat this fish...? Wait, how am I going to prepare this fish? Oh shit, who's going to clean the fish?!"
When the time came, I had two knives - a cleaver and a small sharp knife. I gutted that fish like a mofo. Yeah, I was shouting,
"Oh my god this is so gross! What is that?! What is that?!"
While my mom tried to help, she just reached her hand inside and tried to pull the guts out, bile shooting everywhere. Then I realized I had to scale the fish. Scales everywhere! On my face, in my hair, all over the kitchen. Dis-gusting. I will never, ever forget: Ask someone else to kill, gut, and descale fish.
Aside from that traumatizing event the fish turned out very nice. I was really thinking about photo documenting the entire process, but I was just too freaked out beyond words. I have major respect for the women who gut fish in the market for a living!
Ribbed tank from Cotton on / White crucifix from Argyle Center @ Mong Kok / Flowered dress from Phuket / Woven Sandals from TST