Tuesday, August 18, 2009
I was trying to think of how to tackle the shopping experience of Shenzhen. In order to really explain the shopping wonders of Shenzhen you would have to have multiple pages, there's no way to describe the labyrinth of hallways and stores that are not in numerical order. This is not to mention being attacked from all sides by vendors shouting, "Missy! Misssssyyyy!! DVD movie? Copy-watch? Can try!" Every person I have ever taken to Shenzhen experiences a shocked silence once they enter Luohu Commerical City. They are suddenly unable to make decisions, too overwhelmed to bargain for the best price, and wander right into the waiting reach of over-eager vendors.

For 4 years I've been going to Shenzhen, things have certainly changed a lot. Such as the price, everything has gone considerably up in price, not to mention the fact that the RMB is now worth more than the HKD. Many of my favorite stores closed last year after the recession/depression hit, but on my last trip things seemed to be doing better. For the first time in months I saw tourists, naive backpackers paying $800 for a purse - things are once again well in Shenzhen. Now, I'm not paying any $800 for a purse. When I go up there many of the people in the stores run up excited to tell me they remember me, do I want to go to the European Fashion store I like so much? How about the next series of Entourage, since you liked the last one so much? Or the t-shirt girls who last time I gave $100 extra since they had their first baby. They <3 me and I <3 them.

The first order of business was to go straight up to the 5th Floor, which is primarily tailors, fabric, some electronics, and lower quality/priced clothing. On this trip I was much less concerned about finding ready-made clothes, shoes, or purses, I was looking instead for details. Oh and details I found! Unfortunately in Luohu they are very, very, very weird about taking pictures. The fabric market is impossible to miss, its an entire half floor of nothing but fabric, buttons, trim, lace, fur, cotton, linen, cashmere, and just about every pattern you could ever imagine.

I found two stalls next to one another that sold an interesting variety of stuff. If you're looking for electric blue fringe, peacock feathers, or little roses made out of lace this is your place. I received two cards from the stores, neither one had any English on it so all I can tell you about this one is: 103A on the 5th floor, her neighbor is 103B and while they're right next to one another they have a lot of different things.

At 103A I found some really interesting applique looking things ($20/each), they're just bead work on mesh for right now, but hopefully I will think of something interesting and turn them into unique necklaces! I could put them on some heavier fabric and use a ribbon to fasten the back, or I could add some extras to it and make it into The Biggest Necklace You've Ever Seen. That would definitely be fun.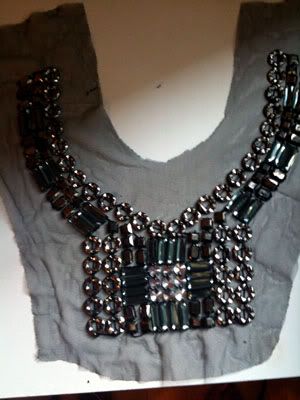 She also had a bag of patches($20 each), one design caught my eye that looked like the perfect pair of epaulettes! And coincidentally at the stall next door was a spool of electric blue fringe ($10/meter)! It was if they were meant to be together. I specifically asked her to give me two of them with a lot of white fabric on the border. I'll probably fold them over, but something to stiffen it up in the middle, sew it closed and add the fringe. The only problem is I don't have anything electric blue or white... It's only a matter of time, though!
At the store next to 103A, there were a lot of different laces, ribbons, and a wider variety of buttons. I bought 4 different kinds of feather ($30/meter), I'm not exactly sure what will become of these feathers, I just saw them and I had to have them. This one type in particular caught my eye, now I know it sounds a little ridiculous but I think they will turn into a shoulder pad enhancement. Very Native American, but whatever, if it looks bad I will just never post a picture of it :)
Of course I got so much more on this trip, but those were on other floors! The fifth floor is definitely a floor of many wonders, browsing the fabric alone could easily consume an hour. Another very important aspect of Louhu's 5th floor are the tailors, for clothing I use:
Shanghai Jia Jia Fashion Shop 23 5/Fabric Hall Luohu Commercial Centre
. If possible bring an actual item to
copy
with you, the tailors are very good but I find that they lack creativity. When I have brought in items of clothing to copy they do an amazing job, they also have a woman at their shop to take you through the fabric market and assist you in choosing a fabric. To have a strapless summer made from something already designed cost me about $150RMB including fabric. Depending on the material you choose and the difficulty in making the garment the price may go up. The fabric of course is negotiable, but the labor on average I would pay
$50-$100RMB
(dress shirts, simple dresses, etc.). Things like a complicated jacket can go up to $300RMB in price, really depends on what you want done.
If you want something copied from a photo, make sure to bring in a very clear, very large photo of what you want. One problem I ran into while having clothes made was they copied the design, but didn't think of how the exact design would look
on me
. So clothes that should have been low cut were not, a fitted waist was loose, and I really do think this is because they measured me and added a few inches to my size. I think if you're very specific that you want the dress to be very tight in a certain place, or that the v-neck should come to a particular point on you they'll make a note of it. I found that after having clothes made for me on the first fitting they were all big and designed a little on the "modest" side.
I had my shopping buddy with me, who happens to speak Cantonese
and
Mandarin - if at all possible bring someone who speaks Cantonese or Mandarin! They really do try to understand what you want, but there are always misunderstandings. Having someone with you to explain what you want (especially when it's a friend) makes the experience 100% smoother. Not to mention bargaining time is decreased by 75%!