Tuesday, August 25, 2009
Hong Kong is home to endless luxury shopping malls. Not even shopping malls, they are super malls, vast seas of marble flooring, the cool breeze of air conditioning, infinite luxury shopping. Hong Kong malls are a force to be reckoned with, they are a phenomenon that to any foreigner seems insane. How can Escada be making money when it has five stores on Hong Kong island alone? Oh wait... Escada files for bankruptcy. Despite some luxury brands suffering from the current economic state, many of them are still flourishing in the tropical shopping environment of Asia.

"And sales of designer clothing, jewelry and other luxury goods in China will climb 7 percent this year, while worldwide luxury revenue could fall 10 percent, Bain & Co. forecast. Last year, luxury sales surged 25 percent in China while they were flat worldwide." - Taragana Blog

This morning on my daily blogroll I came across this post from one of my favorite bloggers, Perez on his new fashion blog, CoCo Perez. Obviously the allotted sum of $400k is not the point, LVMH was more making the point of cracking down on counterfeits. This is same deal as with bootleg movies, the best they can do is nail the people buying the bags. The suppliers of these counterfeit bags are not stupid people and deal in multiple areas of "shady activity". I then came across an article by Harper's Bazaar on fakes and the entire ring of illegal activity behind it.

"It is estimated that up to 7 percent of our annual world trade — $600 billion worth — is counterfeit or pirated; that fakes are believed to be directly responsible for the loss of more than 750,000 American jobs; that everything from baby formula to medicine is counterfeited, with tragic results; that counterfeiters and the crime syndicates they work with deal in human trafficking, child labor, and gang warfare; and that counterfeiting is used to launder money, and the money has been linked to truly sinister deeds such as terrorism." - Dana Thomas

I don't know how I personally feel about fakes, on one hand child labor, terrorism, and human trafficking sure sounds bad... But let's be honest here, I go to Shenzhen at least once a month. I have people I like up there, I've been taken to remote warehouses to look at handbags where people are armed with weapons. I've also watched police run people down in the streets and arrest them right then and there, yeah counterfeit goods mean serious business. Do all those horror stories and the 750,000 Americans out of work stop me from buying fake goods...?

Do you watch your favorite TV shows online illegally? Do you download albums off torrents? Do you find ebooks online? Do you go to the market to buy imitation shoes?

I'm not saying I do any of those things, but come on we live in Hong Kong. It's difficult to escape the temptation of saving not just $100 bucks, but thousands of dollars by purchasing a fake instead of the real deal. What difference does it make between buying a fake LV and the real thing? Your sense of pride? Perez says in his article, "Counterfeits are not cool! Plus, anyone with even the most rudimentary fashion experience can spot the difference between an authentic and a fake." Perez has not been to China and compared a real Balenciaga motorcycle bag to a fake.

VS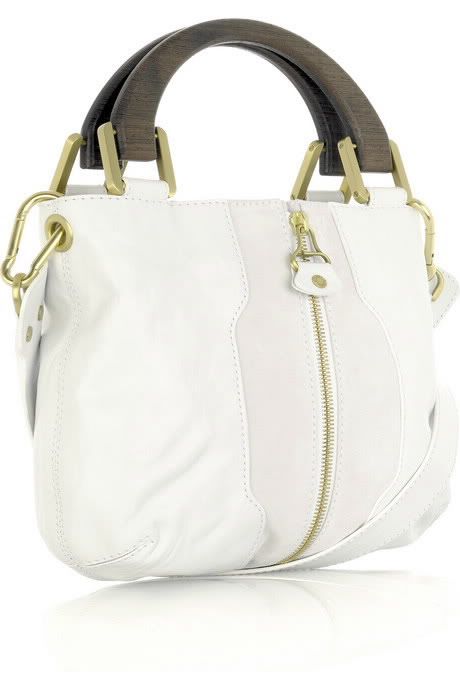 Photoshopping aside, which is the real deal?
Fakes also expand into the world of "authentic retail". Or is it acceptable to buy an imitation item when it's from a store like Asos, Topshop, H&M, or Steve Madden? All of them are notorious for copying trends. In the US retail chain Forever 21 has many items that are "inspired" by luxury brands - is that counterfeit? It's copying a design and selling it for a cheaper price. Or is that ok because it's from a real store?
It's a curious debate, because where do you draw the line? Are those of us not willing to drop a couple grand on a real bag supposed to deprive ourselves of the newest trends? Just because we're not an elite platinum member at Lane Crawford do we have to settle for less? I think not. Like the music and movie industry, I feel that fashion needs to change. Information, entertainment, and fashion must become more accessible to the middle-upper middle class, otherwise they will simply be a thing of the past. Look at television, the future is the Internet - there is already hulu.com which allows users to watch their favorite shows online with a few sponsored commercials. The only problem is that hulu.com is exclusive to US residents, leaving those of us who do not reside in the Holy Land of Entertainment to go about watching our favorite TV shows via streaming online or - gasp - buying it bootleg.
The answer to me is obvious. If you want me to pay to subscribe to HBO so I can watch True Blood, then let me watch it online. I mean since NOW TV offers
such
a great selection of shows and
always
so up to date. Make those Louis Vuitton (which I fondly have dubbed
Lousy Vinyl
) bags a little more affordable and people won't resort to buying fakes. Don't charge me $90HKD to watch a movie when I could actually watch in the comfort of my own home, at almost perfect quality
FOR FREE
.
So I'll stop there, because to me the answer is painfully obvious. Why should/would we pay for something when it's out there for free? Because it's wrong?
Yeah sure.